TS EAMCET Hall Ticket 2023
TS EAMCET Hall Ticket 2023 will be released online by Jawaharlal Nehru Technological University (JNTU) Hyderabad in the 30th Apr 2023 on wards. Candidates can download the TS EAMCET 2023 Hall Ticket from the official website using their TS EAMCET login details such as registration number, date of birth and qualifying hall ticket number. Only those candidates who have successfully submitted their application form will access the TS EAMCET Hall Ticket 2023. The admission card includes data such as the applicant 's name, parent's name, exam date, exam time, test center address, etc. It is recommended that TS EAMCET Hall Ticket 2023 candidates review all of the information listed therein before downloading.
TS EAMCET 2023 Hall Tickets Click Here
Latest: TS EAMCET 2023 exam date announced
TS EAMCET Hall Ticket 2023 Dates
TS EAMCET 2023 Events
TS EAMCET 2023 Dates
TS EAMCET 2023 application date
 10th April 2023
Release of TS EAMCET hall tickets 2023
30-04-2023
TS EAMCET 2021 exam date
Engineering (E)

12-05-2023
13-05-2023
14-05-2023

Agriculture & Medical (AM)
10-05-2023
11-05-2023
Where do I download the TS EAMCET Hall Card 2023?
In order to access the ticket to the hall, applicants need their login information. Below is a
stepwise process on how to access the TS EAMCET Admit Card: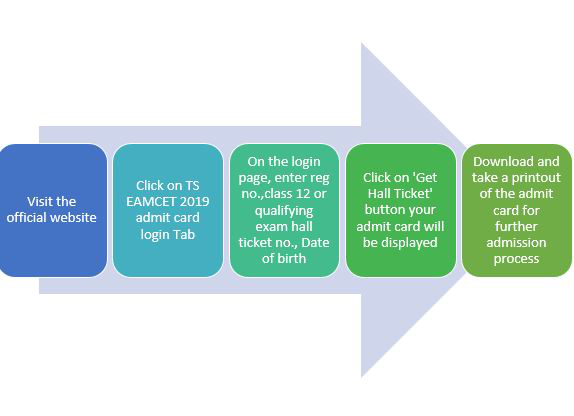 TS EAMCET hall ticket 2023 login window image:
What 
to 
do 
when 
errors 
occur 
while 
downloading 
the 
TS 
EAMCET 
Hall 
Ticket ?
In the event of any anomalies being printed on TS EAMCET 2023 admit card, candidates
must contact the review's conductive body immediately. When a candidate fails to get
a hall ticket to the venue, they must immediately contact the officials.
What details are mentioned on TS EAMCET Hall Ticket 2023?
The admit card contains the following information:
Name of the candidate
Roll number of the candidate
Exam venue
Exam time
Exam date
Candidate's contact details
TS EAMCET Hall Ticket 2023 FAQs
Q. When am I going to get my TS EAMCET Admission Card 2023?
A. Since about April 3rd week the TS EAMCET Admission Card will be available online.
Through all the login window people'll run the TS EAMCET 2023 Hall tickets. Candidates must enter their login certificates, such as registration ID, hall ticket number of qualifying examination/10 + 2 and date of birth.
Q. Can I get my TS EAMCET hall ticket to the in offline mode?
A. No, JNTU Hyderabad will only release TS EAMCET Admission Card 2023 in online mode. The Authority did not send its to the TS EAMCET Hall tickets 2023 via any offline means, such as post, courier.
Q. I forgot my login password. What am I supposed to do to get my TS EAMCET password?
A. If you have forgotten your password, press the 'Forgot Password' tab on the Admission Card login page to retrieve it. In the registered email ID, you will get a connection to reset your password.
Q. What am I meant to bring along with my admission card for the examination?
A. In addition to the TS EAMCET 2023 fare, you must hold some valid proof of identity, such as PAN card, Voter ID, Passport, Driving License, Photo passbook, etc.
Search for key words TS EAMCET 2023 Hall Tickets, TS EAMCET 2023 Admit Cards,
TS EAMCET Admit Cards, TS EAMCET Hall Tickets