AP Edcet 2021 Notification: AP EDCET 2021 Conducted by Andhra University, Visakhapatnam on behalf of APSCHE NOTIFICATION for the year 2021 has released. "EDCET 2021 (AP Education Common Entrance Test 2021) "notification is issued
on `6th, July 2021. AP EDCET 2021 is an entrance test for admission to
the B.Ed. (Bachelor of Education) course at all universities and private colleges in Andhra Pradesh. This AP EDCET will be carried out through AP Edcet 2021.
AP EDCET 2021 Entrance Exam Notification: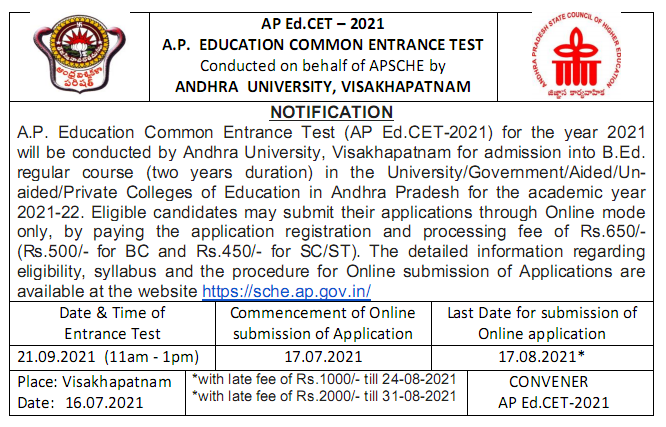 The Andhar University runs Edcet 2021. APSCHE is most likely to assign AU
responsibilities for Andhra Pradesh Edcet 2021, and the schedule is issued.
Definitions of AP EdCET 2021 eligibility and the submission process and schedule are as follows:
The machine dependent exam will be Andhra Pradesh Edcet 2021. The examination
is conducted once a year and is carried out at state level. Students
wishing to enter standard 2-year BED course may adopt for this exam.
Once the aspirants have passed this test, they will take the admissions
to government and private BED Colleges. This article will help you get more
information about the AP Edcet 2021 Notification.
AP Ed.CET 2021 : (AP.Education Common Entrance Test) conducted on behalf of APSCHE by Andhra University Vishakapatnam. In accordance with G.O.Ms. No.72 (SE.Trg-1) dept. dated 05-07-2004 & amendments, AP.Education Common Entrance Test (AP Ed.Cet-2021)
For admission into B.Ed. regular course of two years duration for the academic year 2021-23 will be conducted on July 2021. Eligible candidates can submit their applications through online mode only by paying the application registration and processing fee of RS.650/- (for SC/ST Rs.450/-) through TS Online Payment gateway (Credit card/ Debit card and net banking). The detailed information regarding eligibility, syllabus and model question paper, Mock Test, related instructions and procedure of online submission of Applications are available on the websites. https://sche.ap.gov.in/EDCET/Edcet/EDCET_HomePage.aspx
AP EdCET 2021 Exam Dates:
| AP EdCET 2021 Notification | Dates |
| --- | --- |
| AP EdCet 2021 Notification release date |  16-07-2021 |
| Submission form Edcet online application starting date | 17-07-2021 |
| Submitting Edcet application form last date without late fee | 17-08-2021 |
| Submitting the Edcet application form with a late fee [Rs. 1000] | 24-08-2021 |
| Submitting the Edcet application form with a late fee [Rs. 2000] | 31-08-2021 |
| Available of AP Edcet Hallticket / AP Edcet Admit Card From | 10-09-2021 onwards |
| Date for AP Edcet Exam 2021 | 21st Sep , 2021 |
| Time for Edcet Exam | 11:00AM to 01:00PM |
| Publication of AP Edcet 2021 Preliminary key | 25-09-2021 |
| Receiving objection on preliminary key Last Date | Will be release soon |
| AP Edcet Results 2021/Ranks 2021 Announcement | Will be release soon |
| AP Edcet Counselling 2021/ AP Edcet 2021 Admissions | any time in Sept to October |
AP EdCET Eligibility 2021
In order to meet the AP EdCET 2021 eligibility criteria candidates should
meet the specifications specified below:
Nationality/ locality
All candidates for the AP EdCET test must be Indian nationals.
All candidates should meet local / non-local status criteria as set out in
the Telangana Educational Institutions (Admission Regulation) Order 1974.
Age limit
Candidates should be at least 19 years of age as of 1 July of
the year in which notification of AP EdCET is out
There is no age limit to appear on AP Ed.CET review
Educational qualification
All applicants will clear their BA / BSc / BSc (Home Science)/BCom / BTech / BCA / BBM
or postgraduate degree in relevant subject or five-year integrated course in the relevant
subject of methodology or some other equivalent degree with an aggregate mark of at least 50 percent. For applicants of the SC / ST / BC category (A / B / C / D / E)/PH minimum marks needed in the qualified category The qualifying test is 40 per cent.
Applicants who secure at least 55 percent marks in BE / BTech with Science / Mathematics as one of the subjects or any other equivalent qualification may also apply
Candidates who have cleared MBBS / BDS / BAMS / BL / LLB / BA (Languages)/BOL
and any other course of this kind are not eligible for AP EdCET B.Ed admission.