Osmania University CDE UG 1st To 3rd Year Supply Oct-Nov 2018 Exam Fee Notification:
Osmania University Notification 2018 – Candidates should note that Osmania University has announced OU Notification 2018 for semester Regular/Backlog/Improvement examination Fee Notification 2018. Osmania University releases the semester wise Fee Notification well in advance for the candidates. Osmania University offers various UG, PG, M.Phil, PhD and PG Diploma Courses. Candidates who have applied for the exam based course in Osmania University can check the exam Fee Notification here. OU Notification is an important part of the exam and after knowing the Osmania University Notification candidates can be paid fee accordingly for the exam. In this page, the candidate can check Exam Fee Notification.
Last date without late fee : Upto 31-08-2018 Last Date with late fee of Rs.200/-: Upto 15-09-2018 Last Date with late fee of Rs.500/-: Upto 24-09-2018.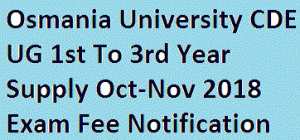 Examination Centre Hyderabad & Secunderabad only
Note: Nalgonda, Suryapet, Nizamabad, Kamareddy and Mahabubnagar candidates have to write their Exams at Hyderabad only.
. All matters relating to Exams / Results / Marks / Re-valuation / Re-counting / Certificates shall be dealt with by the Controller of the Examinations, OU. (Phone No.040-27682374 (BA Ext.202 & B.Com. Ext.204) web site www.osmania.ac.in ; The fee for obtaining Memo of marks, Certificates and Revaluation OR Recounting.
.The transferred students of Affiliated colleges of O.U. or other Universities seeking admission into BA., and B.Com. II & III year should compulsorily have to pass (1) a. Indian Heritage & Culture (b) Foundation Course in Human Values & Professional Ethics in Ist year BA, and B.Com., BBA(2) Environmental Studies in IInd year BA, and B.Com. , BBA(3) Science & Civilization in IIIrd year BA, and B.Com., BBA and have to register for the above subjects with separate examination fee and form failing which their degree will not be issued.
.This notification is meant for the failed candidates of Annual, 2018 and in earlier examinations.
IMPORTANT
NOTE: i) Whenever there is a change in syllabus, the old batch of students have to appear according to the new syllabus. Whenever they appear, they have to ascertain the papers they have to appear and fill in the form. The Centre will not be responsible if they fail to adhere to the rules and regulations in force. ii) Candidates who appeared for B.Com. I, II & III year exams with old syllabus upto Annual 2005 for B.Com I year, Annual 2006 B.Com II year and Annual 2007 B.Com III year will have to appear the new syllabus subject from Suppl.2005, Supp. 2006 and Supp. 2007 exams in the following new subjects. (whose Hall Ticket No. begins with 094-04-000 and earlier batches should appear as per New Syllabus).
Osmania University CDE UG 1st To 3rd Year Supply Oct-Nov 2018 Exam Fee Notification Click here to download fee notification
S.NO. OLD SUBJECTS NEW SUBJECTS:
1 Accountancy – I Financial Accounting – I 2 Banking Theory & Practice Banking & Financial Systems 3 Accountancy – II Financial Accounting – II 4 Business Statistics Quantitative Techniques – II 5 Mercantile Law & Industrial Law Business Laws 6 Accountancy – III Corporate Accounting 7 Auditing Business Communication & Report Writing 8 Cost Accountancy Cost & Management Accounting 9 Income Tax Income Tax & Practical Auditing 10 Management Accountancy Adv. Management Accounting
iiii) The results of ineligible candidates will be withheld or cancelled and the Prof. G. Ram Reddy Centre for Distance Education is not responsible,
if any individual submitted the examination application form ignoring the rules of exams/ improvement.