Osmania University MBA CBCS July 2018 Exam Results:
Osmania University PG MBA CBCS: All the students who should sure to be written the Osmania University MBA CBCS July 2018 Exam Results. All the students who wrote the MBA CBCS examinations can check and download their individual results information from this page. The Osmania University is one of the most reputable and elite universities in Telangana and all over India. It has been successfully conducted the MBA CBCS July 2018 Exam Results and now it will announce the Osmania University OU MBA CBCS July Results 2018 sooner. Many candidates are eagerly waiting for the declaration of results. So, to reduce the pressure from the students, we have provided the official result portals from where candidates can check and download their OU MBA CBCS July 2018 Exam Results 2018.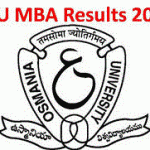 The MBA or (Master of Business Administration) or MCA (Master of Computer Applications) both are very different courses from which students can learn the entire different sector of the industries. While MBA, directly focuses on the business tactics and they help in uplifting the business organization of the company. By doing MBA, you can get jobs like Accountant, Business Manager, Executive Recruiter, Finance Manager, Advertising Executive, Marketing Executive etc. MCA is a skill-based job which directly focuses on the technology part and it comes up with the company's business needs.
Therefore, both are equally good in their respective fields and based on the OU MBA CBCS Results 2018. Candidates can get placements in high profile companies. It is a little early to think about placements but candidates should start working now on their grades and marks because the candidate who has a higher percentage shows that they had the dedication and commitment to achieve their goals.
Osmania University MBA CBCS July 2018 Exam Results Click Here to download 
The Osmania University, OU is one of the top universities in India, It is situated in Hyderabad, Telangana which is the youngest state in India (which is 29th newly formed state in 2014) It grants affiliation to innumerable Undergraduate and posts graduate colleges/institutions in the state of Telangana. Osmania University offers full time and correspondent courses for other PG or Master degree such as MA, MCom, MSc.It has a diverse MBA program which includes many branches in MBA such as MBA in International Business, MBA in Operations, MBA in Marketing, MBA in Finance, MBA in IT, MBA in Human Resources and more.