Andhra University SDE MBA & MCA Admission July-Aug 2018 Entrance Notification:
Entrance notification for admission into mba/mca programme-2018 Applications are invited for admission into MBA (Marketing/Finance/HRM) both3-year and 2-year streams,MBA Hospital Administration and MCA courses through School of Distance Education,Andhra University for the Academic Year 2018-19 from fresh and in service candidates with II class in graduation (45% in case of SC/ST candidates).Candidates, who qualified in ICET – 2018 are also eligible to seek admission into these courses. However, those who failed to appear for ICET can seek admission now by qualifying in the Entrance Examination to be conducted by School of Distance Education,Andhra University on 12.08.2018. The schedule for Entrance Examination and admission are as follows.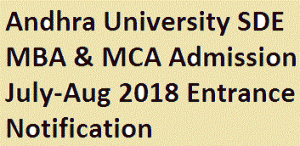 Availability of Application on website Cost of Application Last date for Reciept of Application With a fine of Rs.300/- Date of Entrance Examination 28.06.2018 Rs.500/- 30.07.2018 06.08.201 8 1 2.08.201 8 Entrance Examination will be conducted at the following centres:(1) Govt. College for Men,Srikakulam, (2) P.R. Govt. College/AKNU MSN PG Centre, Kakinada, (3) Govt. Arts College, Rajahmundry, (4) Syed Appalaswamy College, Vijayawada, (5) RG Kedia College of Com-merce, Near New Chaderghat Bridge, Hyderabad, (6) TSR & TBK Degree & PG College, Gajuwaka, Visakhapatnam, (7) School of Distance Education,Andhra University, Visakhapatnam. The candidates can also download Entrance applications from our website. however, they have to pay an amount of Rs.500/- by way of DD in favour of Registrar, A.U., and send along with their respective applications. Note: Candidates who completed 5 years of service as on 01-07-2018 after graduation can seek admission directly into MBA without any entrance examination. Visakhapatnam Date : 27-06-2018.
Andhra University SDE MBA & MCA Admission July-Aug 2018 Entrance Notification Click here to download