Andhra University Pharm.D 3rd Year 6th Sem Aug 2017 Exam Results:
Andhra University (AU) Pharm.D 3rd Year 6th Semester Results Aug 2017 have been released by the Andhra University on its official website – aucoe.info.
Andhra University had conducted the 3rd year 6th semester regular exams in the month of Aug for students pursuing undergraduate programs in Pharmacy at various colleges and institutions that come under its purview. Students who had appeared in the same can check their results by following the instructions given below: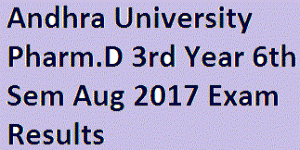 The students who are not satisfied with their exam results can apply for revaluation on the official website of Andhra University by paying a nominal fee. Andhra University had released the M.Pharmacy 2nd sem Results last week along with the results of M.Pharmacy Second Semester for the regular exams conducted earlier this year.
Andhra University Pharm.D 3rd Year 6th Sem Aug 2017 Exam Results Click here to view result
The University has started school of Distance Education in the campus in 1972. It offers Courses ranging from Certificate Courses to Post Graduate and Professional Courses. The School of Distance Education presently offering 4 UG Programs, 18 PG Programs, 5 Certification Courses, 9 PG Diploma Courses, 15 Professional Courses and 7 Collaborative Courses through Distance Education Mode. The School has 35 study centres across the State. The enrolment in UG, PG, and Professional Programmes in the School of Distance Education is about 80,000 students. The School has 23 permanent faculty. It is Equipped with the latest infrastructure. Andhra University is not just one of the oldest educational institutions in the country, but is also the first to be conceived as a residential and teaching-cum-affiliating University, mainly devoted to post-graduate teaching and research.The people of the State have an emotional attachment to the institution, since it came into being after a prolonged and collective struggle of the Telugu elite for a University in the educationally backward northern Circars and Ceded districts of the erstwhile Madras Presidency.Andhra University was constituted by the Madras Act of 1926. The 82-year-old institution is fortunate to have Sir C.R. Reddy as its founder Vice-Chancellor, as the steps taken by this visionary proved to be fruitful in the long run.