Andhra Pradesh LAWCET & PGLCET Notification 2023
AP LAWCET & PGLCET Notification 2023

 Available Now
Acharya Nagarjuna University, Guntur is directing AP LAWCET and PGLCET for the sake of APSCHE, Andhra Pradesh Law Common Entrance Test is usually known as AP LAWCET is leading for induction into ordinary LLB course ( 3 years and 5 Years) and LLM. Course (2 years) for the scholarly year 2023-24. The assessment is held once in a year and is done on state level premise. The understudies who want to picked a flood of Law can receive for this assessment.
Important Links
This article will help you learn more about the AP LAWCET 2023 Notice, the LAWCET exam dates, the eligibility to write LAWCET Exam, the AP LAWCET 2023 syllabus and the Andhra Pradesh LAWCET application form.
APLAWCET-2023:
(A.P.Law Common Entrance Test)
conducted on behalf of APSCHE by
Acharya Nagarjuna University, Guntur.
AP LAWCET & PGLCET -2023 is scheduled for admission to the standard LLB course (3 years and 5 Years) & LLM in 20th May 2023. Course (2 years) for the 2023–24 academic year. Eligible applicants can apply their applications online only by paying the registration and processing fee of OC for 900/-(Rs.850/- for BC, Rs.800/- for SC/ST)for the LLB course and OC for 1000/-(Rs.950/- for BC, Rs.900/- for SC/ST)for the LLM course through AP Online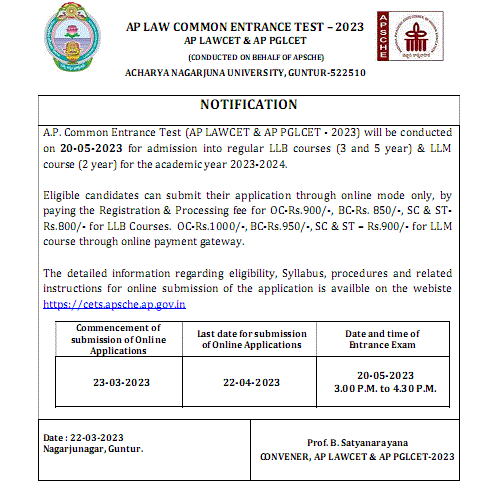 AP LAWCET Exam Dates 2023:
| AP LAWCET 2023 Notification | Dates |
| --- | --- |
| Submission form LAWCET online application starting date | 23.03.2023 |
| Submitting LAWCET application form last date without late fee | 22.04.2023 |
| Submitting the LAWCET application form with a late fee [Rs. 500] | 29.04.2023 |
| Submitting the LAWCET application form with a late fee [Rs. 1000] | 05.05.2023 |
| Submitting the LAWCET application form with a late fee [Rs. 2000] | 09.05.2023 |
| Correction of online application data already submitted by the candidate | 10-05-2023 & 11-05-2023 |
| Available of Hallticket/ Admit Card From | 15.05.2023 |
| Date for AP LAWCET Exam 2023 | 20.05.2023 |
| Time for LAWCET Exam | 03:00 PM to 04:30 PM |
| Publication of AP LAWCET 2023 Preliminary key | — |
| Receiving objection on preliminary key Last Date | NA |
| AP Lawcet Results 2023/Ranks 2023 Announcement | — |
| AP LAWCET Counselling 2023/ AP LAWCET 2023 Admissions | any time in June or July |
AP LAWCET & PGLAWCET -2023 Eligibility Criteria:
Educational Qualification:
For LL.B (3-Year course)
Candidates must have passed bachelor degree or equivalent in any discipline from a recognized university.
For LL.B (5-Year course)
Candidates must have passed 12th or equivalent exam from any recognized education board.
Age Limit :
There is no age limit to write AP LAWCET-2023 Exam
4. Candidates should be the citizens of India.
5. The minimum percentage criteria:
For general category: 45% marks
For SC/ST Category: 40% marks.
AP LAWCET 2023 Exam Pattern:
The question paper will contain 120 objective types of questions and it will take 90 minutes to complete the APLAWCET -2023 exams and the question paper will be English and Telugu. No negative  marks appear in AP LAWCET.
| Section | No. of Questions |
| --- | --- |
| General Knowledge and Mental Ability | 30 |
| Current Affairs | 30 |
| Aptitude for the study of Law | 60 |
| Total | 120 |
AP LAWCET Exam Centers :
The AP LAWCET-2023 Exam in Andhra Pradesh conducted in 10 different examination centres. When candidates fill out the application form, they will pick the exam centre. Once the exam center is allocated the modifications will not be made under any circumstances. The following are the regional centers that administer the AP LAWCET-2023 test.
1 .Ananthapuramu
2 .Tirupati
3 .Guntur
4 .Vijayawada
5 .Kadapa
6 .Kurnool
7 .Srikakulam
8 .Nellore
9 .Rajamahendravaram
10 .Visakhapatnam
Important Instruction to the Aspirants:
1.Application form will be accepted through online mode only.
2.Online application will start  23rd March 2023.
3.No other mode will be available to submit the application form
4.Scanned images of photograph and signature must be uploaded in the prescribed format
5.After filling the form completely, candidates are advised to take the printout of filled-in application form for future references
LAWCET Eligibility
Eligibility The candidates should fulfil the following eligibility criteria
1.The candidates should have passed B.A./B.Sc./B.Com./B.Sc.(Home Science)/B.C.A./B.B.M. examination from any University in Andhra
Pradesh or a recognized University outside Andhra Pradesh.
2.The candidates who are appearing for final degree examinations of 2023 are also eligible to appear for entrance examination.
3.Candidates should have secured 50% marks either in the Bachelors Degree i.e. B.A./B.Sc/B.Com (Home Science)/BCA/BBM and/or in
the Masters Degree or any other qualification equivalent thereto. However the candidates belonging to all other reserved categories should
have secured 40% marks in the qualifying examination.
4.The qualifying mark in the Entrance Test for all candidates (except SC/ST) is 37 out of total marks (i.e 25%). For the candidates
belonging to SC/ST communities there will be no qualifying marks for ranking.
5.The candidates should have completed 19 years of age on 01-03-2023.
AP LAWCET Qualification details:
How to apply for Andhra Pradesh LAWCET 2023:
Email Id is mandatory to apply for the AP LAWCET 2023.
Visit Official site or visit this page. Manabadi.co.in we will redirect you for LAWCET Applying page.
Click on "Apply Online" link.
The following information must be kept ready for filling the details during Online submission:

Hall ticket Number of Qualifying Examination
Hall ticket Number of S.S.C. or equivalent
Date of Birth
Caste in case of SC/ST/BC candidates
Aadhar Number
PH, NCC, Sports etc.
Income Upto One Lakh or Up to Two Lakhs or More than Two Lakhs (Rupees)
Ration Card
Study or Residence or relevant certificate for proof of local status (last 12 years)

If you make payment via online mode, then click on "Click here to Pay Online using your Credit/Debit Card" link and Pay the fee. or you can pay at AP ONLINE / TS ONLINE.
After filling the Online Application Form with the required details,
the candidate is required to verify all the details carefully and press Submit button. Filled in Online Application Form will be generated which contains Registration Number along with filled in details. The candidate is required to take printout of Filled In Online Application Form and it is to be submitted to the Invigilator during the examination after affixing a recent color photograph duly attested by the Gazetted Officer or Principal of the College where studied qualifying examination.
Note down your "Reference Number" for further process.
After successful fee submission, you can fill the application form by clicking on the link "Click here to proceed to enter application".
You have to upload your scanned photographs (size should be less than 30 KB) and signature (size should be less than 15 KB) in a JPEG format.
Verify all the filled-in details and click on "SUBMIT" button.
Take a printout of the application form for future use.
Other Information required for filling Online Application
Recent passport size digital color photograph (file size less than 30 KB and .jpg file format) of candidate for uploading (whose photograph is not available in Intermediate databases)
Digital Signature of the candidate (file size less than 15 KB and .jpg file format)
Regional Center to which candidate wishes to appear for AP LAWCET-2023 examination.
Gender (Male / Female).
Non-Minority / Minority
Mobile Number of the candidate.
E-mail of the candidate.
Place where Studied – Municipality / Corporation or Rural area in SSC,Intermediate, Degree.
The candidate has to submit the "FILLED IN ONLINE LAWCET 2023 APPLICATION FORM" to the invigilator in the Examination Hall on the day of the AP LAWCET-2023 exam. Also, affix a recent color photograph (3.5cms x 3.5cms) in the box provided (Bottom / Left side) on the "FILLED IN ONLINE LAWCET 2023 APPLICATION FORM" and get it attested by a Gazetted Officer / Principal of the college where studied.
The candidate belonging to SC / ST category has to submit the attested "CASTE CERTIFICATE" along with the FILLED IN ONLINE APPLICATION FORM" to the Invigilator on day of the AP LAWCET-2023 exam in the Examination Hall, in case, the Application number of his/her Caste Certificate is not provided at the time of the Online submission of the Application.
Important point helps you about AP LAWCET 2023 Application Form
Before submitting AP LAWCET application forms the students are requested to read the following points carefully which are as follows:
1.AP LAWCET Exam Dates 2023 are available online only and will be available from Mar 2023. So, don't be late in
submitting forms
2.If you get late, here we share you the last date for submitting application form in the 22nd Apr 2023
3.If you have submitted the form with some wrong information, you can re-correct them before the last correction date shared by the
university.
4.After re-checking the application, submit the form completed in all respects
5.If you submit the online form after the date. You need to play the late fee along with it as shared by us in above table
6.The students need to pay the application fee either by debit/credit card or online mode
7.Online Mode needs many information like birth date, father-mother name, passing year, transaction id, the name of candidate etc.
8.It is advised to visit your allotted Examination Center well before so that you can take examination tension free.
9.The candidate will not be allowed to take the examination even if late by 1 minute.
10.The candidate does not have option of choosing specific date / session to appear for the AP LAWCET-2023 entrance examination. This
information is known to him / her only after downloading Hall Ticket. For any reason if the candidate fails to appear in the given slot, he /
she is treated as absent.
AP LAWCET Application Fee Details
Only by paying the application registration and processing fee of Rs.900/- (Rs.850/- for BC, Rs.800/- for SC/ST) for LLB Course and Rs.1000/- (Rs.950/- for BC, Rs.900/- for SC/ST)  for  LLM  Course,  eligible  candidates  can  apply  their  applications  through  online payment  gateway (Credit Card / Debit Card and Net Banking).
AP LAWCET 2023 Exam Pattern
AP LAWCET exam is in online mode only and Check in detailed Notification of AP LAWCET in official website
There is One sessions in AP LAWCET 2023
TIMINg: 03:00 PM to 04:30 PM on  20th May, 2023
The AP LAWCET 2023 language will be Telugu and English only.
The paper duration will be 2 hours
Subject – 80 marks
Subject – 40 marks
Subject – 40 marks
You will get 1 marks for each answer
While negative marking is not available in this examination
The format of question will be MCQ, which has only one correct answer
QUALIFYING MARKS FOR AP LAWCET 2023
The qualifying percentage of marks for the AP LAWCET-2023 is 37 maximum marks considered for ranking. However, for candidates belonging to Scheduled Caste and Scheduled Tribe, no minimum qualifying mark is prescribed. But their admission will be limited to the extent of seats reserved for such categories (vide G.O.Ms. No. 179, LEN&TE, dated 16.06.1986).
How to Prepare for AP LAWCET Exam?
Firstly, to be successful you need to make an effective time management
Go through all the previous examination paper of AP LAWCET 2020, 2019, 2018, 2017 etc.
Accumulate all the information relevant for your syllabus i.e. study material
Don't waste your time in covering the topics which are out of syllabus
You need to have more focus on mock test for increasing your accuracy and speed for the examination on time
Once you practiced the examination go to Mock examination conducted by government of Andhra Pradesh. details are furnished soon.
AP LAWCET 2023 Admit Card/ Hall Tickets
The Exam Conducting Authorities will provide the hall ticket i.e. admit cards for 2023 year in the  of 15th May 2023.
AP LAWCET Hall Tickets 2023
AP LAWCET admit card
You need to keep the admit card carefully and keep at least two copies of it. You can get the copy of admit card from official website of AP LAWCET 2023. You need to submit the birth date and registration number. After filling all these details, you need to press the submit button shared below boxes, now after processing you will see your admit card, Just take the print out of it. On admission date, the candidates need to bring additional documents with admit card, Attested copy, photocopy and filled the application form.
AP LAWCET 2023 Syllabus
The syllabus for this examination is prepared.
AP LAWCET Results 2023
The students who will appear for the examination will get the result from the official website and from www.manabadi.co.in.
AP LAWCET Results 2023 
Coming Soon
They will be ranked on the basis of marks obtained in the 2023 exams. The OMR Answer Sheets will be provided to the students till six months from the date of publication of results.
AP LAWCET Counseling 2023
For counseling, the students need to keep their online Application Form until the end of the admission process. While verification of the documents, they need to provide other documents and admit card to the desired authorities. The official website either the counseling portal will be providing the Information Booklet for AP LAWCET 2023 counseling.