AP Inter 1st & 2nd Year Exam Time Table April 2022 for General/Vocational are available at Manabadi.com. Students can check their Andhra pradesh Intermediate Public Exam time table below.
AP Inter 1st & 2nd Year Public Exam Time Table April 2021 (General/Vocational) – Manabadi.com
It is to inform that, the Time Table for the conduct of Intermediate Public Examinations, April 2022 pertaining to General Courses has been released through the press. It will be available in the Board of Intermediate Education Website www.bieap.gov.in. A copy of the same is furnished overleaf.
Also Download: AP inter 1st & 2nd Year Hall tickets
The Ethics and Human Values Examination will be held on 07-03-2022 (Monday) from 10.00 AM to 1.00 PM.
The Environmental Education Examination will be held on 09-03-2022(Wednesday) from 10.00 A.M to 1.00 P.M (one day).
The Practical Examinations will be held from 11-03-2022 to 31-03-2022 in Jumbling System (including Sundays) in two sessions i.e. from 9.00 A.M to 12.00 Noon and 2.00 P.M to 5.00 P.M.
Theory examinations will be held from 9.00 A.M to 12.00 Noon from  05-07-2021 to 26-07-2021 every day.
Also Check: AP Inter 1st Year Results 2020 | AP Inter 2nd year Results 2021
I.P.E March, 2022–Time Table for First and Second year Examinations
Therefore, I request you to give wide publicity of the schedule of exams among the teaching staff and students of your college regarding the dates, timings of the theory examinations and display a copy of the Time Table prominently on the Notice Board of your college without fail.
Board of Intermediate Education, Andhra Pradesh, Vijayawada.
INTERMEDIATE PUBLIC EXAMINATIONS, MAY – 2022.
TIME TABLE – (THEORY)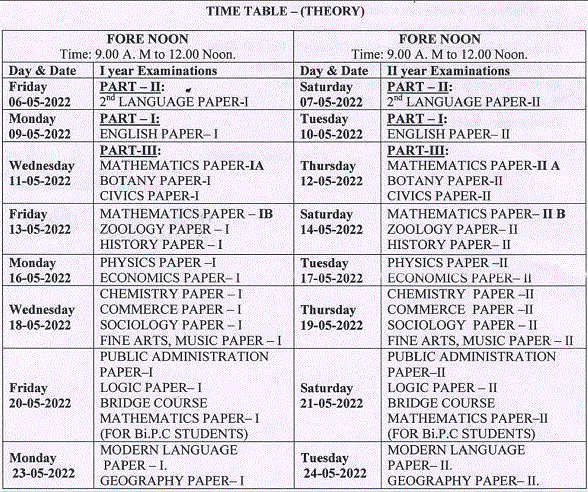 Andhra Pradesh State Board of Intermediate 1st & 2nd Year May 2022 Exam Time Table
The Estimated TS Inter 1st and 2nd Year Exam timetable 2022 as Below:
Day & Date
I year
Day & Date
II year
06-05-2022

Friday

PART II

2nd Language Paper I

07-05-2022

Saturday

PART II

2nd Language Paper II

09-05-2022

Monday

PART – I

English Paper I

10-05-2022

Tuesday

PART – I

English Paper II

11-05-2022

Wednesday

PART – III

Mathematics Paper -1A
Botany Paper 1
Civics Paper 1
Psychology Paper 1

12-05-2022

Thursday

PART – III

Mathematics Paper -IIA
Botany Paper II
Civics Paper II
Psychology Paper II

13-05-2022

Friday

Mathematics Paper -IB
Zoology Paper I
History Paper I
14-05-2022

Saturday

Mathematics Paper -IIB
Zoology Paper II
History Paper II
16-05-2022

Monday

Physics Paper I
Economics Paper I
Classical Language Paper I
17-05-2022

Thursday

Physics Paper II
Economics Paper II
Classical Language Paper II
18-05-2022

Friday

Chemistry Paper I
Commerce Paper I
Socialogy Paper I
Fine Arts, Music Paper I
19-05-2022

Saturday

Chemistry Paper II
Commerce Paper II
Socialogy Paper II
Fine Arts, Music Paper II
20-05-2022

Monday

Geology Paper I

Home Science Paper I

Public Administration Paper I

Logic Paper I

Bridge Course Maths Paper I(FOR Bi.P.C STUDENTS)

21-05-2022

Tuesday

Geology Paper II

Home Science Paper II

Public Administration Paper II

Logic Paper II

Bridge Course Maths Paper II(FOR Bi.P.C STUDENTS)

23-05-2022

Wednesday

Modern Language Paper I
Geography Paper I
24-05-2022

Thursday

Modern Language Paper II
Geography Paper II