Gujarat SSC 2021 Exam Results has been released
Gujarat SSC, HSC (general) will likely produce results in the first half of June
AHMEDABAD: The results of the GSEB SSC are likely to be declared on 30th June;
Officials at the GSHSEB said. The results for general stream of Class 12 may be
In the first half of June also to be announced.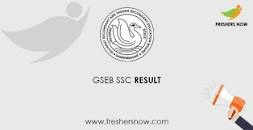 The board released a statement following fake messages concerning Gujarat
Class 12th The announcement date for class results went viral on social media.
The GSHSEB explained that the board must report the verdict until it is finalised
Date of launch on their official website.