Results:
Telangana University published the Regular, Backlog results for UG (Degree) 1st To 6th Semester theory examinations held in Dec/Jan 2020-21. The result will be communicated to the Principal of the concerned college and will be displayed on the website of TU www.telanganauniversity.ac.in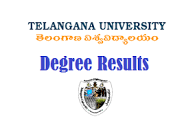 Telangana University Results 2020-21: The Controller of Examination, Telangana University is declared the Result of the UG (Degree) 1st To 6th Semester Examinations Dec/Jan 2020-21. The University post successfully conducting the Telangana University UG (Degree) 1st To 6th Semester Examinations of the Degree Course earlier in Dec/Jan 2020-21 has declared the Result, Marks statement cards through the website of Telangana University
The Telangana University based on the notification, shall announce the results of Degree 1st To 6th Semesters Examination 2020-21 at the website portal of the University Results. The Telangana University Examination Controller will notify the results of 1st and 3rd Semester Examination shortly through the website of the University.
We would notify here through the latest announcements by the Telangana University.