Andhra University CDE B.Com C.C.S (Revised) 2nd Year Nov 2017 Exam Results:
Andhra University (AU) B.Com C.C.S (Revised) 2nd Year Results Nov 2017 have been released by the Andhra University on its official website – aucoe.info.
School of distance education the Provisional List of Register Numbers of successful candidates of the School of Distance Education B.Com. C.C.S.(Revised) Degree Examination at the end of Second year held in November 2017.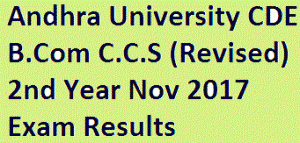 The Candidates applying for the re-valuation of their valued answer scripts have to apply in prescribed format and requisite fee and send the same to office of the School of Distance Education. The result of the re-valuation will be communicated to the candidates directly. Such students are advised to apply for subsequent exams in case they wish to do so without waiting for revaluation results.
Andhra University CDE B.Com C.C.S (Revised) 2nd Year Nov 2017 Exam Results click here to view result
About Us:
The University has started school of Distance Education in the campus in 1972. It offers Courses ranging from Certificate Courses to Post Graduate and Professional Courses. The School of Distance Education presently offering 4 UG Programs, 18 PG Programs, 5 Certification Courses, 9 PG Diploma Courses, 15 Professional Courses and 7 Collaborative Courses through Distance Education Mode. The School has 35 study centres across the State. The enrolment in UG, PG, and Professional Programmes in the School of Distance Education is about 80,000 students. The School has 23 permanent faculty. It is Equipped with the latest infrastructure. Andhra University is not just one of the oldest educational institutions in the country, but is also the first to be conceived as a residential and teaching-cum-affiliating University, mainly devoted to post-graduate teaching and research.The people of the State have an emotional attachment to the institution, since it came into being after a prolonged and collective struggle of the Telugu elite for a University in the educationally backward northern Circars and Ceded districts of the erstwhile Madras Presidency.Andhra University was constituted by the Madras Act of 1926. The 82-year-old institution is fortunate to have Sir C.R. Reddy as its founder Vice-Chancellor, as the steps taken by this visionary proved to be fruitful in the long run.