Sri Venkateswara University DDE PG 1st & 2nd Year August 2017 Revaluation Fee Notification:
The Provisional list of numbers furnished above are subject to variation. For Exact results refer the marks statements to be issued shortly.
ANNOUNCED LATER indicates that the results of the candidates will be announced after receipt of filled in Examination Application together with online challan / Lower
Degree Qualification Certificates or dues as the case may be. 08-03-2018 is the last date for receipt of the applications for Revaluation with fee of Rs.930/- for each paper, for re-totalling Rs.540/-for each paper and for personal identification with fee of Rs.1220/- for each paper without fines and with a fine of Rs.400/- (for each paper) from 09-03-2018 to 13-03-2018.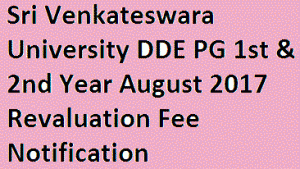 The prescribed application can be had from the Controller of Examinations, S.V.University, Tirupati – 517 502,on requisition by sending a self-addressed stamped (Rs.10/-) envelope.The prescribed applications will only be considered for the above purpose.The failed candidates who are applying for revaluation are advised to send their applications for registration to appear for the ensuing Examinations without waiting for the revaluation result which may come either before starting of examinations or after.
About US:
Sri Venkateswara University, Tirupati , is established in 1954 in the world famous
holy temple town of Tirupati on the sprawling campus of 1000 acres with a panoramic
and pleasant hill view. The University stands as a testimony to the wisdom and
foresight of great visionaries Late Sri Tanguturi Prakasam Pantulu, the then Chief
Minister of Andhra and Late Sri Neelam Sanjiva Reddy, to cater the educational needs
and aspirations of the people of Rayalaseema area.
Sri Venkateswara University DDE PG 1st & 2nd Year August 2017 Revaluation Fee Notification Click here to download
With a great wisdom, the founder of this University have rightly coined the motto Wisdom lies in proper perspective for it. The University has grown excellently from strength to strength over the past 60 years, as a premier institute of higher learning under the able and committed leaderships of successive Vice-Chancellors starting from Prof. S. Govindarajulu to the present Vice Chancellor Prof. Avula Damodaram. It has gone through greater strides in the transformation of the University with acquiring necessary and modern sophisticated instrumentation to catch up with the world competition in academic and research programmes.