JNTUK Pharm.D 1st,2nd,3rd,4th & 5th Sem supply Jan 2018 Exam Fee Notification:
JNTUK Pharm.D Candidates appearing for 1st ,2nd,3rd,4th & 5th Pharm "D" supplementary exmainations commencing from 05.02.2018 are informed that the examinations will be conducted at respective colleges only. the applications for the above examinations will be received as per the time schedule given.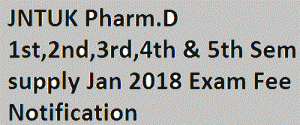 Hall Tickets are to be issued by the Principal only to the eligible candidates who fulfill the academic requirements of the University. The Principals are requested to inform the students that mere payment of examination fee does not guarantee eligibility for appearing for examination.
The Payment of Total Examination Fee (Without Fine/Rs. 100 Fine/Rs. 1000 Fine) is to be made through Online Link provided in the portal from 22.01.2018 After Payment a "Payment Form" will be generated which is to be printed.
JNTUK Pharm.D 1st,2nd,3rd,4th & 5th Sem supply Jan 2018 Exam Fee Notification Click here to download