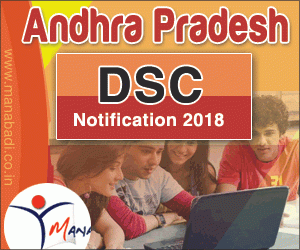 The notification for the APDSC 2018 will be releasing today . HRD minister Ganta Srinivasa Rao releasing the exam schedule for AP DSC 10-10-2018.AP DSC Online Application will be most probably Starts from one week after the Detailed notification releases.
Any candidate who has acquired the qualification of Bachelor of Education from any NCTE recognized institution and secured 50 percent in graduation shall be considered for appointment as a teacher in classes Ito V provided the person so appointed as a teacher shall mandatorily undergo a six month Bridge Course in Elementary Education recognized by the NCTE, within two years of such appointment as primary teacher.
AP DSC Notification 2018
AndhraPradesh State DSC Notification 2018, AP DSC official notification 2018 is about to release soon. All activities are commenced to release official DSC notification/ DSC Notification for 9,250 posts.
AP Minister Sri Ganta Srinivas has announced teacher recruitment through DSC. The entire recruitment process will be finished before commencement of oct 10th 2018. Minister has released the entire schedule of recruitment of teachers through DSC exam and this schedule consists of issuing DSC Notification in the month of april (tentative) Fee payment for applying DSC Exam will be exists for 45 days and the same fee can be paid through apolnline, meeseva, eeseva starts from 3rd week of april, Submission of DSC application through online commences from 6th july, download of DSC Exam halltickets, conduct of DSC written examination, release of DSC initial key, receiving of objections through online on initial key is from 27th August 2018. Release of final key 10th sep 2018, declaration of merit list or results 15th Sep 2018 , display of provisional selection list verification of original certificates at district level and submission of medical certificates issued by concerned medical board to DEO, confirmation of final selection list, issue of posting order by DEO by way of counseling.
The total posts for Schools assistants (SA), Secondary Grade Teachers (SGT), Language Pandits (LP) others are 7061 posts, additional vaccines sanctioned post (3290 post), AP model school phase 1 post total of 9250 posts.
School Wise Vacancy Positions
| | | |
| --- | --- | --- |
| S No. | School Category | vacancies |
| 1 | ZP / MPP Schools | 5000 |
| 2 | Muncipal Schools | 1100 |
| 3 | Gurukul Schools | 1100 |
| 4 | Social Welfare Residential Schools | 950 |
| 5 | Schedule Area Schools | 500 |
| 6 | Non Schedule Area Schools | 300 |
| 7 | BC Welfare Residential Schools | 350 |
| 8 | APSWREIS | 175 |
AP DSC Important Dates of Oct 2018 (Tentative)
| | | |
| --- | --- | --- |
| 1 | Date of Issuing of Notification & Information bulletin | 10 Oct 2018 |
| 2 | Payment of Fees through Payment Gateway | yet to be announce |
| 3 | Online Submission of Application through http://cse.ap.gov.in | yet to be announce |
| 4 | Mock Test Available from | yet to be announce |
| 5 | Receiving of complaints online pertaining to application and other issues | yet to be announce |
| 6 | Download Hall tickets | yet to be announce |
| 7 | Schedule of Examination | 30 Nov 2018 |
| 8 | Release of Initial Key | yet to be announce |
| 9 | Receiving of Objections on initialkey | yet to be announce |
| 10 | Final key published | yet to be announce |
| 11 | Final Results Declaration | yet to be announce |
Manabadi Analysis about DSC Exam dates:
Disclaimer: The opinion mentioned here is purely from Manabadi experts and there is no guarantee on the analysis. We request you to take this analysis as informative purpose and not to come for any conclusion based on our analysis. Please wait for official information provided by the government of andhrapradesh.
As per the intial press meet the synopsis was as follows:
DSC and TET will be conducted seperately.
DSC is conducted for filling up of teacher posts in Government Schools, Zilla Praja Parishad Schools and Mandal Praja Parishad Schools.
DSC exam will be conducted by District selection commission (DSC Board) constituted by the Government of Andhrapradesh.
Selection of candidates is be on the basis of combined marks secured in the Main Examination (DSC Examination) to be conducted by the DSC (80%) and TET (20%) in all categories of posts except SA (Physical Education) and PET for which selection shall be 100% based on the Main Examination conducted by DSC
The Vacancies are for SGT (Secondary Grade Teacher), SA (School Assistants other subjects), LPT (Language Pandits),PET (Physical education teacher)
The actual (DSC) notification will be released by DSC board.
The rules for Selection are as follows:

** The rule of reservation to local candidates is applicable
** The rule of special representation in the matter of appointment of candidates belonging to Scheduled Castes, Scheduled Tribes, Backward Classes, Physically Challenged, Ex-service Men and Women is applicable
** No Physically Challenged quota should be extended for the School Assistant (Physical Education) and Physical Education Teacher Posts
**Physical Education Teacher should be filled with eligible meritorious candidates as per the Government Memo.No.1351/Ser.VI/2008-2, dated. 01.04.2008.
**The number of candidates selected shall be equivalent to the number of vacancies notified. There shall be no waiting list and posts if any unfilled for any reason whatsoever shall be carried forward for future recruitment.

The Qualification for various posts are provided below
This article also contains following information :
AndhraPradesh DSC 2018 Notification
AndhraPradesh DSC 2018 G.O.
AndhraPradesh DSC Exam pattern 2018 for SGT, SA, Language pandit
AP DSC (SGT, SA and language Pandit) – Educational Qualifications required
AP DSC 2018 – Age Limit to Apply
AP DSC 2018 – How to Apply
AP DSC 2018 – Application Form filling
AP DSC 2018 – Requirements before filling Application Form
AP DSC 2018 – Selection Criteria
All Set goes for AP DSC Notification 2018 for 9250 posts:
It´s great news for those who are waiting for DSC Notification in Andhra Pradesh. Shri Nara Chandrababu Naidu, the honorable chief minister of AndhraPradesh has approved the proposal of recruitment of teachers in AP state through DSC or DSC Examination for the year 2018, said by minister shri. Ganta Srinivas. This process will commence by release of DSC Notification which might take place 6th july 2018. The minister has instructed DSE board to collect the vacancy list of teachers in all districts. The vacancy list should contain teacher vacancies in various districts till 1st June 2018 and vacancies forms after retirement of teachers for next 3 years that is 2020 and the DSE Board of AP has started working on the same and submitting the list on Wednesday as instructed by honorable minister.
As per the data with DSE Board the total vacancies are 9250 posts primarily. Recently due to regularization and transfer of teachers in AP schools, the vacancy list may vary from 10,351 and will increases.
AP Districts wise DSC Post details for SGT, SA, LP, PET:
As per the Information we have received these are the Vacancy list of Teachers in AndhraPradesh.
What is DSC?
DSC means earlier conducted by DSC board (District Selection Committee), an entrance exam conducted for the recruitment of teachers by the Andhra Pradesh state government.
How and When to Apply for AP DSC?
To apply for various DSC Posts, candidates need to apply online only in the following website: apdsc.cgg.gov.in after the official notification is released
AP DSC Method of Recruitment
The Recruitment shall be through a selection process as decided by the District selection comission (DSC). Out of the Total Marks of , 20% weightage shall be for Teacher Eligibility Test (TET) score and 80% weightage shall be for DSC Exams score for all the posts, except for School Assistant (Physical Education) and Physical Education Teacher.
For the purpose of selection of Teachers under these Rules, scores obtained in AndhraPradesh Teacher Eligibility Test (APTET) / Telangana Teacher Eligibility Test (TSTET) /Central Teacher Eligibility Test (CTET) with the qualifying marks as given below shall only be considered:
NOTE: Selection of candidates shall be on the basis of combined marks secured in the Main Examination to be conducted by the APPSC(80%) and TET (20%) in all categories of posts except SA (Physical Education) and PET for which selection shall be 100% based on the Main Examination conducted by DSC only.
Who Can Write DSC (SGT) (OR) What is the eligibility criteria for DSC (SGT)
The important criteria to be eligible for AP DSC (SGT) recruitment exam is – the candidate must be qualified in AP TET recruitment exam with 60% marks for general category, 50% marks for BC & 40% marks for SC/STs.
Candidates who wish to apply for AP DSC (SGT) 2018 in SGT category has to possess the above said marks in APTET Paper – I & candidates who wish to go for SA or Language Pandit should possess the marks in AP TET Paper – II.
How to apply for AP DSC / DSC 2018?
AP DSC / DSC (DSC) 2018 can be applied online through the official website www.appsc.gov.in.
The application form for AP DSC / DSC 2018 exam will be available in www.appsc.gov.in under the recruitment category. It can be filled and submitted online itself.
Fee to be paid:
Each applicant must pay Rs. 200/- (RUPEES TWO HUNDRED ONLY) towards Online Application Processing Fee, each subject applied for.
This apart, the applicants have to pay RS. 80/- (RUPEES EIGHTY ONLY) towards Examination Fee.
However, the following category of candidates are exempted from payment of Examination fee.
BC, SC & ST of Telangana State
Unemployed applicants in the age group of 18 to 44 years of Telangana State (They have to submit declaration at an appropriate time to the Commission that they are unemployed).
PH & Ex-service men.
Important Note: BC's, SC's and ST's belonging to other states are not exempted from payment of Application processing Fee and Examination Fee and they are not entitled for any kind of reservation.
Mode of Payment of Fee: 
The Fee mentioned above is to be paid online through SBI ePay duly following online instructions once the application form details are submitted by filling APPSC ID, date of birth and other particulars.
The fee once remitted, shall not be refunded or adjusted under any circumstances. Failure to pay the examination fee, application fee, wherever applicable will entail total rejection of application.
Things to keep ready before filling up the AP DSC / DSC (DSC) 2018 Application form:
Aadhar number
Scanned copy of your passport size photograph.
Scanned copy of your signature.
Date of Birth Certificate / S.S.C
School Study Certificate
Proof of Educational Qualifications.
Educational Qualification details i.e., SSC, INTERMEDIATE, DEGREE, POST GRADUATION etc. and their Roll numbers, Year of passing etc.
Declaration by the Unemployed (For claiming examination fee exemption)
No Objection Certificate from Employer (if anywhere employed)
Local Scheduled Area Certificate (Candidates hailing from Agency Area) wherever applicable.
Community/ Caste Certificate obtained from Mee Seva/ E Seva i.e., Enrollment number and date of issue.
The following Certificates should be obtained from Govt. of AndhraPradesh (AP) State in prescribed proforma for the purpose of verification.
Community Certificate.
Non-Creamy Layer Certificate as per Form- VIIB / Creamy Layer Certificate as per Form- VIIC.
Certificate of Residence / Nativity (where the Candidates not studied in School / Private Study)
The following Certificates (whichever is applicable) should be obtained from Competent Medical authority for the purpose of verification.
Medical Certificate for the Blind
Certificate of Hearing Disability and Hearing Assessment
Medical Certificate in respect of Orthopedically Handicapped Candidates
Instructions for Filling the Application Form:
Applicant must compulsorily fill-up all relevant columns of application and submit application through website only. The particulars made available in the website shall be processed through computer and the eligibility decided in terms of notification.
The applications received online in the prescribed proforma available in the website and within the time shall only be considered and the Commission will not be held responsible for any kind of discrepancy.
Applicants must upload his/her own scanned photo and signature through J.P.G format.
The applicants should not furnish any particulars that are false, tampered, fabricated or suppress any material information while making an application through website.
All the essential certificates issued by the competent authority of Telangana State shall compulsorily be kept with the applicants to produce as and when required to do so. Failure to produce the required certificates on the day of verification will lead to disqualification.
Important: The claim of the candidates with regard to the date of birth, educational / technical qualifications, experience and community are accepted only provisionally on the information furnished by them in their application form and is subject to verification and satisfaction of the Commission. Mere admission to any test or interview or inclusion of the name of a candidate in a Merit List will not confer on the candidate any right for appointment. The candidature is therefore, provisional at all stages and the Commission reserve the right to reject candidature at any stage of the selection even after the advice has been made.
How to upload the filled Application Form?
The Applicants have to read the User Guide for Online Submission of Applications and then proceed further. The Candidate has to visit the WEBSITE www.apdsc.gov.in and fill the application according to the guidelines provided at the time of registering for applications on Website. While filling the application form, the candidates have to ensure that there are no mistakes in it. The Commission bears no responsibility for the mistakes, if any, made by the candidates.
Hand written/ Typed/ Photostat copies/ outside printed Application Form will not be accepted and liable for rejection.
For any Technical problems related to Online submission and downloading of Hall-Tickets please contact (details provided shortly) (Call Time: 10.30 A.M to 1.00 P.M & 1.30 P.M to 5.30 P.M) or mail to helpdesk@appsc.gov.in.
NOTE:
The Commission is not responsible, for any discrepancy in Bio-data particulars while submitting the application form through Online. The applicants are therefore, advised to strictly follow the instructions and User guide in their own interest before submitting the application.
The particulars furnished by the applicant in the Application Form will be taken as final, and data entry is processed, based on these particulars only by Computer. Candidates should, therefore, be very careful in Uploading / Submitting the Application Form Online.
Incomplete/incorrect application form will be summarily rejected. The information if any furnished by the candidate subsequently in any form will not be entertained by the Commission under any circumstances. Applicants should be careful in filling-up the application form and submission. If any lapse is detected during the scrutiny, the candidature will be rejected even though he/she comes through the final stage of recruitment process or even at a later stage.
Before Uploading/Submission of Application Form, the Candidates should carefully ensure his/her eligibility for this examination. No relevant column of the application form should be left blank, otherwise application form will not be accepted.
How to get ready to appear for DSC / SGT ?
Plan how to prepare for the exam.
Once the DSC Notification 2018 for AndhraPradesh (AP) state is released you will be left with very little time for preparation. So prepare a Plan of preparation accordingly.
Which is best training institute for ap DSC 2018 :
Well it is the very common question for all aspirants. There are many institutes which provide training, but the thing which matters is how best you are extracting from them. You have to listen them carefully, prepare yourself notes and start getting prepared. We also suggest to go for DSC 2018 Online coaching even if you are going to training institute. The reason is, sometimes you may not understand the faculty because of fluency, voice or any other disturbance. At that time you cannot ask him to repeat the class. Or it may be tedious to write the running notes of him. So it's better to have an online training class. With this Online training Classes you can hear the class at anytime, anywhere and pause and repeat the class whenever you want. Now the question is where you can get Online Coaching. We suggest you to go Manabadi DSC Online coaching. It is the best ap DSC online coaching 2018 in this Online coaching you can view video classes through internet. Even if you don't have internet you can view videos through pendrive. The pendrive can be attached to your mobile.
Which Books are best for preparation :
There are lot of books in the market. We suggest you to prepare telugu academic text books starting from 7th Class to 10th Class all subjects for SGT and 7th Class to Inter-2nd Year for SchoolAssistant and Language Pandit. You can also tryManabadi's DSC study material which is prepared by the best faculty with lot of research and point to point information removing the unnecessary things. Manabadi study material helps you what to read? and what not to read?